When YOUR HOME water heater IS ON THE FRITZ, you want someone you can count on — and you want someone FAST.
The Asheville plumbers from Blue Planet Plumbing bring trustworthy expertise right to your home. We'll let you know if you need a water heater replacement or whether a water heater repair can salvage your existing unit.
If you do need to replace a water heater, Blue Planet plumbers offer the most up-to-date options for energy and water conservation. Based on your needs and your budget, they can recommend which of the many different water heater varieties is best for you.
Schedule Your Appointment Online
We make it easy. Just click the button and follow the steps!
Hybrid Water Heaters
Hybrid water heaters are the most efficient and low-maintenance water heater on the market today. Blue Planet Plumbing is one of Asheville's most well-versed contractors in the area of installing hybrid water heaters. We're also a Duke Energy pre-approved contractor.
Why Choose Hybrid
Potential Installation Savings: $475
Duke Energy customers qualify for a $350 Mastercard gift card
Asheville Go Local cardholders get an additional $100 off
First-time customers get an additional $25 off.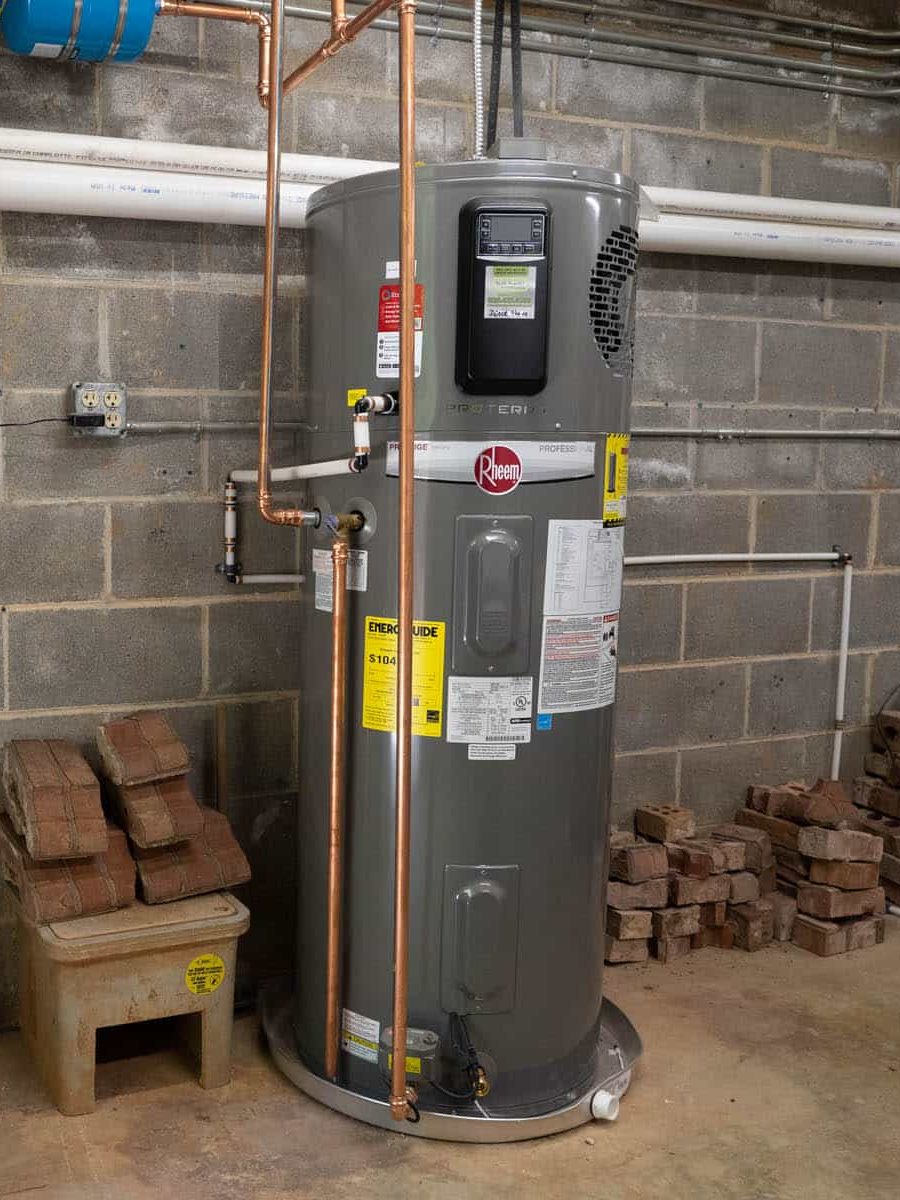 Save up to $750 per year on your energy bill
According to the Department of Energy, the annual operation cost of an electric water heater for a two-person household is roughly $900 a year. For hybrid water heaters, it's $150.
Get Blue Planet Plumbing's 3, 6, or 10-year labor warranty.
Plus, a 15-year warranty on the tank (compared to a standard six-year warranty for most traditional electric and gas tank types). Extended warranties are also available.
Hybrid Water Heater Tech Features
Digital keypad interface that allows you to change settings: vacation mode, hybrid mode, efficiency mode and standard electric high-demand mode.
User-friendly digital Wi-Fi app that allows you to control your water heater from anywhere – right from your cell phone. Lower and raise the temperature, receive diagnostic alerts, reminders for air filter change-outs/cleaning, reminders for maintenance and more!
*Flood Safety. If your water heater leaks, our Flood Safety Device will automatically shut off the water to the heater and alert you on your app. We can also be added to the app so we can receive alerts in advance should you be out of town.
*Flood Safety Device is available for Rheem ProTerra Prestige Hybrid models.
The Green Rationale
Installing a hybrid water heater reduces the amount of fossil fuels needed to satisfy the power demands of Western North Carolina customers. By using a hybrid water heater, you allow Duke Energy to use their most efficient equipment, which means they burn less coal, resulting in fewer emissions and less carbon, which in turn slows climate change and global warming. This is all part of Duke Energy's clean energy program and clean energy commitment.
additional Water heater expertise
Many of the benefits of hybrid water heaters, especially those installed through Blue Planet Plumbing, are covered on this page, but we've also gathered some additional pros – and some cons – for those who love digging into the details.
Tankless Water Heater Installation
Tankless water heaters can provide an endless supply of hot water. Since it heats water on demand, it doesn't need to store hot water and keep it hot. Why pay to heat water all day that you're not using? No tank means it can fit into a smaller space.
Tankless water heaters typically come with a six to 10-year warranty, based on the brand and option chosen. Popular brands include:
Navien tankless water heaters
Rinnai tankless water heaters
Rheem tankless water heaters
Noritz tankless water heaters
Stiebel Eltron tankless water heaters
And many more!
---
Gas or Electric Water Heater Replacement
Blue Planet Plumbing technicians are experts in water heater repair and replacement of traditional units (those with large tanks). Whether you want a gas or electric water heater, our plumbers recommend the most up-to-date, energy-efficient brands to fit your needs. Most gas and electric water heaters give you six-year warranties on parts.
Typically less expensive than hybrid or tankless water heaters, traditional units continue to be popular throughout Asheville. Blue Planet plumbers listen to your needs before recommending the best brand and model for you.
Compare and Save
When you need to replace a water heater, consider the cost of the unit as well as the cost of running the unit. The newest technology provides the most energy efficiency, which saves you money in the long run. Compare the annual operating costs of all types of water heaters for a two-person household:
Hybrid water heater: approximately $145
Tankless water heater: approximately $210
Gas water heater: between $310 and $450
Electric water heater: approximately $750
Why Blue Planet Plumbing?
Because they treat you and the environment with equal respect.